Looking for fun? This 59ft. luxury yacht puts the 'good' in a good time. With spacious areas wherever you look this entertainer will get guests in the mood for fun from the moment they board. With a luscious modern jungle decor guests can spread out and prepare for a memory of a lifetime.
$475/hr – Winter rate (November 1st – February 28th)
$575/hr – Summer rate (March 1st – October 31st)
Bring your own food and beverages
Connect to bluetooth speakers or the karaoke set
Amenities 
• Interior and exterior seating
• Fridge and small freezer
• Electric stove top
• Microwave oven
• Dinette
• Karaoke set
Specs
• Length: 59ft
• Cabins: 3 (overnight access only)
• Bathrooms: 2
• Speed: cruising
• No smoking permitted
*Bareboat charter (required for over six guests):

• A bareboat charter is a vessel that is leased by the owner to another person (a "charterer") for a period of time without a captain or crew;
• A bareboat charter is a vessel that is considered a recreational vessel and may not be subject to Passenger Vessel inspections by the United States Coast Guard;
• Once the charterer takes possession of the vessel, the charterer becomes entirely responsible for the safe navigation of the vessel and its passengers;
• The owner of the vessel is generally not responsible for any collision, personal injuries, and wages for the crew
• The charterer is responsible for the vessel's crew, fuel, insurance, any maintenance and repairs, and any liability associated with use and possession of the vessel;
• The charterer must have the option of selecting and paying crew and may discharge the master or any crew member without referral to the owner;
• The owner may require general levels of proficiency for the crew that is retained based on federal statutes; and
• Charterers and passengers are solely responsible for making sure they understand and agree to the terms of any bareboat charter agreement.
More info
Take a seat on one of the two couches on the main floor, which offers an open layout between the living area and the fully equipped kitchen. Head upstairs to sing karaoke under the fully covered 225 sq. ft. top deck. Or head to the front of the boat and sit on the faux grass covered bow. So bring the mai-tais and we'll meet you at the dock.   
A Marina del Rey yacht charter has much to offer. The beautiful stretched beaches of Venice and Santa Monica or the fairways of Marina del Rey. During the charters we often see sea lions and sometimes even dolphins or whales. Prefer a different route? Let us know in the booking form!
4-hour Malibu yacht charter route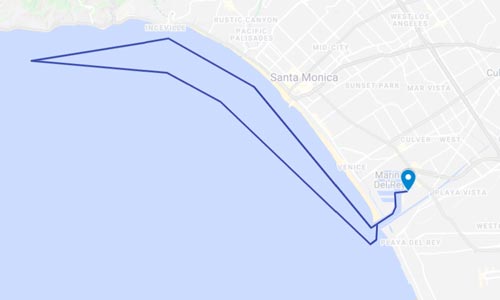 5-hour Malibu yacht charter route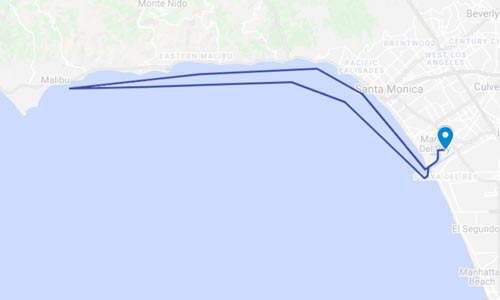 Client reviews
We had a great experience on The Lady M. We most definitely booked again with Los Angeles Yacht.
We loved the boatride in the sun for my birthday, sipping on champagne and playing games.
Los Angeles Yacht Charter overall rating
Sleeping places:
Licensed Captain
Fuel:
Diesel
Capacity:
Max. 12 guests
Electric Fridge
Stereo sound system
Lifejackets