50 Foot Luxury Yacht 'Lady M'
Price: $450/hr* minimum of 3 hours
Departure from: Marina del Rey
Los Angeles Yacht Charter invites you to enjoy a fabulous vacation aboard a 50 foot Luxury Navigator Pilothouse Motor Yacht.
This 50 foot Navigator comes with 3 staterooms and can easily sleep 8 guests and can accommodate up to 6 guests for cruising. The staterooms/ beds are only accesible on overnight bookings, not during day charters. Music is onboard with bluetooth or USB connector.
The flight deck on top of the yacht offers a 360 view with comfortable rounded seating. Guests are welcome to layout and enjoy the front deck as well.
The boat is based in Marina del Rey which is only a fifteen minute drive from LAX Airport. Enjoy cruising the fabulous LA Coastline or the Channel Islands on this Magnificent Navigator 5000 Motor Yacht. At Los Angeles Yacht Charter your cruising enjoyment is our top priority.
The boat comes with a fully equipped galley with electric range and convection microwave oven. There is full linen and towel service for the staterooms (only for overnights).
Capacity:
Max. 12 guests
Smoking:
NO SMOKING. NO HOOKAH. NO DRUGS ALLOWED. NO MARIJUANA/ CANNABIS.
Departure:
Marina del Rey
Bring your own food and beverages:
Please bring your own food and beverages, cups plates and utensils. Alcohol is allowed, we do reserve the right to cancel a charter without refund if clients are not drinking responsibly and are a danger to the crew or each other.
Pricing includes:
✔ Captain & Deckhand
✔ Docking fee
✔ Fuel
✔ Wharfage fee
✔ Taxes
A Marina del Rey yacht charter has much to offer. The beautiful stretched beaches of Venice and Santa Monica or the fairways of Marina del Rey. During the charters we often see sea lions and sometimes even dolphins or whales. Prefer a different route? Let us know in the booking form!
4-hour Malibu yacht charter route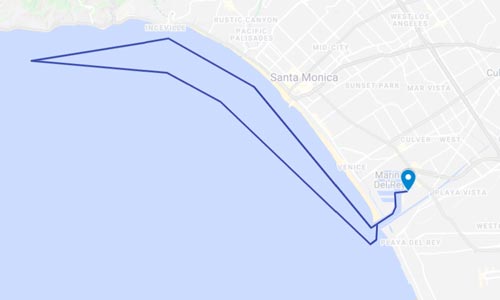 5-hour Malibu yacht charter route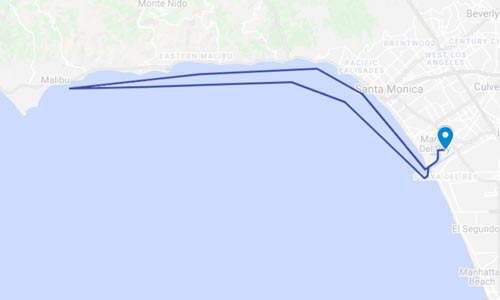 Officially Licensed Captains
Coast Guard Examined Yachts
Local Los Angeles Business
Maker:
Navigator
Model:
5000
Sleeping places:
Licensed Captain
Fuel:
Diesel
Capacity:
12
Speed:
CG Examined
Electric Fridge
Stereo sound system
Lifejackets