50ft. Luxury Yacht 'Lady M'
Everyday is smooth sailing aboard this gorgeous 50ft. Navigator. This classic California cruiser is the perfect vehicle for a day of fun in the sun. Made locally in California, every space allows for guests to sit comfortably in all California conditions. The recently renovated interior is in a California coastal vibe that lends itself to all groups looking for that luxurious yacht experience.
$390/hr  – Winter rate (October 16th – April 15th)
$445/hr  – Summer rate (April 16th – October 15th)
Bring your own food and beverages
Connect to our bluetooth speakers
Amenities 
• Interior and exterior seating
• Fridge and small freezer
• Electric stove top
• Microwave oven
• Dinette
• Screen HDMI input
Specs
• Builder: Navigator
• Length: 50ft
• Cabins: 3 (overnight access only)
• Bathrooms: 2
• Speed: cruising
• No smoking permitted
*Bareboat charter (required for over six guests):

• A bareboat charter is a vessel that is leased by the owner to another person (a "charterer") for a period of time without a captain or crew;
• A bareboat charter is a vessel that is considered a recreational vessel and may not be subject to Passenger Vessel inspections by the United States Coast Guard;
• Once the charterer takes possession of the vessel, the charterer becomes entirely responsible for the safe navigation of the vessel and its passengers;
• The owner of the vessel is generally not responsible for any collision, personal injuries, and wages for the crew
• The charterer is responsible for the vessel's crew, fuel, insurance, any maintenance and repairs, and any liability associated with use and possession of the vessel;
• The charterer must have the option of selecting and paying crew and may discharge the master or any crew member without referral to the owner;
• The owner may require general levels of proficiency for the crew that is retained based on federal statutes; and
• Charterers and passengers are solely responsible for making sure they understand and agree to the terms of any bareboat charter agreement.
More info
Guests easily enter the vessel on the swim step and walk through the back deck to enter a spacious salon living space. Guests can relax on the couch, enjoy a buffet and drinks at the kitchenette bar, or make their way up for even more space. Just a few steps up the pilot house offers guests a traditional table setting with continued 360 degree views of the water. For more sun guests can venture out to the bow to layout or head upstairs to the flybridge where a lounge awaits them. 
For those interested in overnight waterfront experiences, this 50 foot Navigator, also known as ¨The Lady M¨, has 3 staterooms reserved exclusively for those staying overnight. Sleeping up to 6 guests there are 2 queens and 2 singles. 
A Marina del Rey yacht charter has much to offer. The beautiful stretched beaches of Venice and Santa Monica or the fairways of Marina del Rey. During the charters we often see sea lions and sometimes even dolphins or whales. Prefer a different route? Let us know in the booking form!
4-hour Malibu yacht charter route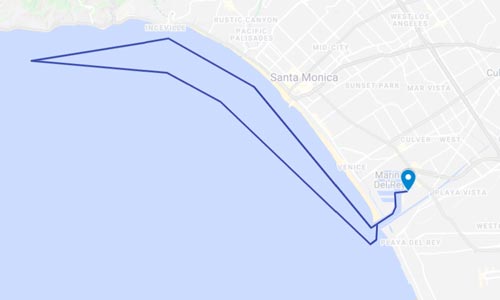 5-hour Malibu yacht charter route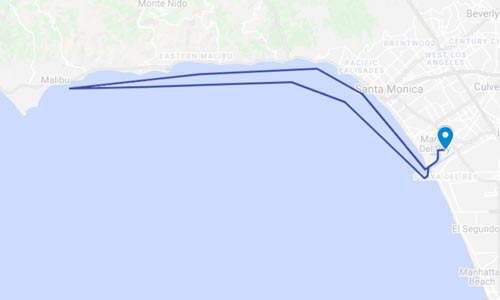 Client reviews
We had a great experience on The Lady M. We most definitely booked again with Los Angeles Yacht.
We loved the boatride in the sun for my birthday, sipping on champagne and playing games.
Los Angeles Yacht Charter overall rating
Maker:
Navigator
Model:
5000
Sleeping places:
Licensed Captain
Fuel:
Diesel
Capacity:
Max. 12 guests
Electric Fridge
Stereo sound system
Lifejackets