This gorgeous 57ft. yacht offers three levels of experience for guests. Starting with a bottom deck that is perfect for a true luxury experience. Guests can then climb to the next level and are immediately on a covered patio with lounge seating, allowing for outside fun with the ultimate sun protection. 
$550/hr – Summer rate (April 16th – October 15th)
$450/hr – Winter rate (October 16th – April 15th)
Bring your own food and beverages
Bluetooth speakers on board
Amenities 
• Interior and exterior seating
• Fridge and small freezer
• Kitchen & BBQ grill
• Bluetooth speakers
• Lounge set
• Screen HDMI input
Specs
• Builder: Dyna Yachts
• Length: 57ft.
• Cabins: 3 (overnight access only)
• Bathrooms: 2
• Speed: cruising
• No smoking permitted
*Bareboat charter (required for over six guests):

- A bareboat charter is a vessel that is leased by the owner to another person (a "charterer") for a period of time without a captain or crew;
- A bareboat charter is a vessel that is considered a recreational vessel and may not be subject to Passenger Vessel inspections by the United States Coast Guard;
- Once the charterer takes possession of the vessel, the charterer becomes entirely responsible for the safe navigation of the vessel and its passengers;
- The owner of the vessel is generally not responsible for any collision, personal injuries, and wages for the crew
- The charterer is responsible for the vessel's crew, fuel, insurance, any maintenance and repairs, and any liability associated with use and possession of the vessel;
- The charterer must have the option of selecting and paying crew and may discharge the master or any crew member without referral to the owner;
- The owner may require general levels of proficiency for the crew that is retained based on federal statutes; and
- Charterers and passengers are solely responsible for making sure they understand and agree to the terms of any bareboat charter agreement.
More info
The patio quickly flows into the salon where guests can sprawl out and enjoy. Guests can venture up, down or outside. There is a dinette with an attached kitchenette downstairs. While upstairs offers a cozy flybridge with fantastic views and seating. Outside visitors can head out to the bow for some maximum fun in the sun.
A Marina del Rey yacht charter has much to offer. The beautiful stretched beaches of Venice and Santa Monica or the fairways of Marina del Rey. During the charters we often see sea lions and sometimes even dolphins or whales.
4-hour Malibu yacht charter route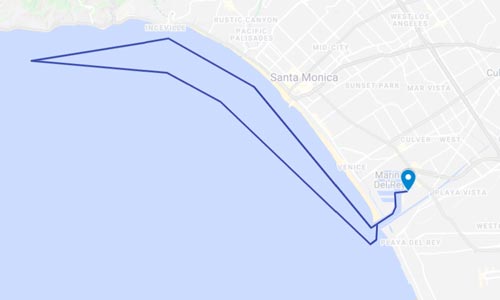 5-hour Malibu yacht charter route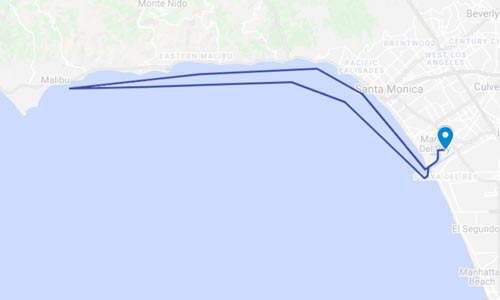 Excellent
4.9
★
★
★
★
★
Based on 200 reviews from
★★★★★
My family & I did a burial at sea ceremony and I cannot recommend it enough! Unfortunately I forgot the name of the crew and captain but they were just AMAZING!!!! It was a smooth ride watching the dolphins swim around the yacht and when ashes were spread the yacht started circling around the ashes and it was such a beautiful sight. This is definitely worth it all!
Daisy P.
★★★★★
Had the best time on the large party boat out of Long Beach with food and drinks. I thought the food and drinks were great for the price. Host Carlos was lovely too. Celebrated my 33rd birthday with family and friends. The customer service team was helpful and responsive. Will use their service again.
Rogge K.
★★★★★
The entire team at LA Yacht Charter was amazing. Super communicative. The boat was really beautiful and clean. Plenty of space and sitting. Captain Jeff and Dottie were awesome to speak to during the trip.
Alex V.
★★★★★
My organization had a great experience with the company! Everyone enjoyed our time on the yacht and it was the perfect amount of time. The crew were very nice and patient, and communication to set up the event went very smoothly. They were open to any and all questions, and responded quickly. I will definitely reach out again to set up another event.
Caitlinh N.
★★★★★
Had an amazing time! We were on the Lady M, captains were awesome. The yacht was spacious and furniture was comfortable. Everyone had a great time out on the water. The booking process was very easy and instructions on how to get there, where to park, and what to bring were helpful! Customer service is 10/10. Would book here again!
Sandra I.
★★★★★
LA Charter was professional and responsive through the entire process of booking a burial at sea from out of state. They were ready for us on time, even texting me an hour early to see if we needed anything.Our captain, Troy and the crew, gave us space and respect during the ash spreading. It was calm, quiet and peaceful, and we are grateful for choosing them.
Matt M.
★★★★★
The captain and deckhand were respectful and experienced. The yacht was clean and everything went forward on time.
Aisha T.
★★★★★
The releasing of the remains was a a beautiful service. The Captain and crew were very patient with us since this was our first time doing this type of service.
Renee H.
★★★★★
Wonderful experience. Our family thoroughly enjoyed the peaceful ceremony.
Albert C.
★★★★★
Captain Troy and his crew was very thoughtful in helping us make our day extra special, from the roses they gave us for the ceremony, helping us arrange the ashes for release in the beautiful basket they provided, and doing everything to make a difficult process as easy as possible. Even with the weather challenges we experienced that day, they made adjustments that allowed us to still have a beautiful ceremony for our loved one. Thank you to everyone at Los Angeles Yacht Charter for your responsive communication every step of the way and making this a seamless experience. We highly recommend using them if you are considering a sea burial, especially for your first time.
Michelle W.
★★★★★
It was an awesome day!Our concierge "Carlos ", Captain, and the boat was beautiful, inviting, and big ❤️
Ed M.
★★★★★
Los Angeles Yacht Charter was a great experience at doing a burial at sea for my family and I. The company is extremely professional along with the Captain and crew. I am extremely satisfied with their service.
Tasha R.
★★★★★
It was so nice to go out to the ocean with family members in a private boat. The whole process was very smooth and awesome. I'd recommend to anyone who is looking for a ash spreading service at the ocean!
97ElEe
★★★★★
Had a wonderful time with my friends! This is my second time chartering with LAYC, and they didn't disappoint! Recommend them fully for short and sweet birthday parties on the water.
Luis L.
★★★★★
Wonderful. The weather was incredible to send off my mom for her final farewell into the sea off MDR.The crew…Troy and Dan were outstanding and so accommodating. The only thing I would say is that it was tough to get a person "live" on the phone to ask questions. We mostly corresponded through email and text, however they were mostly very responsive. Other than that everything was perfect.Thank you!5 +⭐️ ⭐️⭐️⭐️⭐️
Kathleen F.
★★★★★
What a beautiful experience, my family had the whole crew accommodated usOn the spreading of my mothers ashes, the boat was perfect. It was comfortable, and it was just a beautiful day.Thank you so much to the captain and your crew, and especially to Carlos our host exceptional!!!
Sidra H.
★★★★★
The service from John, Tony, and Jim was undeniably one of the best experiences I've had in a long time. Their yacht was beautiful and spacious. The trip was exactly what I was picturing for my birthday. 10/10 would recommend and book again
Eat The M.
★★★★★
This was an amazing experience for myself and family!The captain and crew were amazing and very hospitable. If you want a carefree, peaceful, and beautiful experience you definitely want to book this place.Thank you for an amazing trip and I will definitely sail out with you all again!Highly recommend!!!
Bria Berry H.
Sleeping places:
Licensed Captain
Fuel:
Diesel
Capacity:
Max. 12 guests