Price: Starting at $15.000,- for 12 hours
Pricing includes:
✔ Captain
✔ Docking fee
✔ Fuel
​About
106fr. Mega Yacht Refurbished in 2018

Sleeps 10

Cruising Speed 18 knots / Top Speed 24 knots

Large Main Salon with Full Entertainment System

Spacious Dining Inside and Out On the Aft Deck

Roof Top Spa

Covered Pilot House

3 State Rooms and 2 Cabins

5 Crew Members including Chef

26' Fully Equipped Zodiac Tender/Ski Boat

2 Sea-Doo Jet Ski's

4 Laird Stand Up Paddle Board's

2 Beau Lake Stand Up Paddle Boards

15' Malibu Express Kayak

Full Fishing Gear

Biodynamic/Organic Produce Available from One Gun Ranch Upon Your Arrival

Chateau Leoube Rose and Red Wines Available
*Bareboat charter (required for over six guests):

• A bareboat charter is a vessel that is leased by the owner to another person (a "charterer") for a period of time without a captain or crew;
• A bareboat charter is a vessel that is considered a recreational vessel and may not be subject to Passenger Vessel inspections by the United States Coast Guard;
• Once the charterer takes possession of the vessel, the charterer becomes entirely responsible for the safe navigation of the vessel and its passengers;
• The owner of the vessel is generally not responsible for any collision, personal injuries, and wages for the crew
• The charterer is responsible for the vessel's crew, fuel, insurance, any maintenance and repairs, and any liability associated with use and possession of the vessel;
• The charterer must have the option of selecting and paying crew and may discharge the master or any crew member without referral to the owner;
• The owner may require general levels of proficiency for the crew that is retained based on federal statutes; and
• Charterers and passengers are solely responsible for making sure they understand and agree to the terms of any bareboat charter agreement.
A Marina del Rey yacht charter has much to offer. The beautiful stretched beaches of Venice and Santa Monica or the fairways of Marina del Rey. During the charters we often see sea lions and sometimes even dolphins or whales. Prefer a different route? Let us know in the booking form!
4-hour Malibu yacht charter route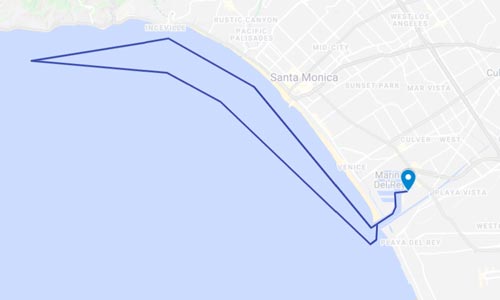 5-hour Malibu yacht charter route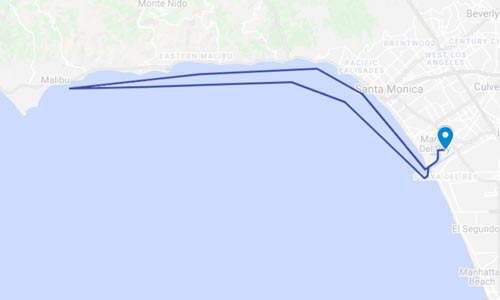 Officially Licensed Captains
Local Los Angeles Business
Client reviews
We had a great experience on The Lady M. We most definitely booked again with Los Angeles Yacht.
We loved the boatride in the sun for my birthday, sipping on champagne and playing games.
Los Angeles Yacht Charter overall rating
Sleeping places:
Licensed Captain
Capacity:
Max 12 guests