Burial at Sea Boat Charter (max. 35p.)
Price for 1 hour service:
1-15 guests $999
16-35 guests $1195
For more than 35 guests see this vessel
On the 1 hour service is it not permitted to bring your own food.
The service allows for the scattering of one set of human remains. For an additional scattering there is a fee of $155.
Price self catered: 
On the self catered option you can bring on board buffet style catering. Please note that alcoholic beverages will have to be purchased on board from our fully equipped liquor bar. (soft drinks and coffee are included in price above for the 3.5 hour service)
Or choose our catering options:
We have several different types of buffet style catering options for the 3.5 hour service. These packages include unlimited soft drinks, coffee and white wine. Other beverages will have to be purchased on board. Please feel free to have a look at our catering options. If you are interested in our catering options please let us know in the message box.
To be able to perform the service we will require an LA County Disposition of Human Remains Permit.  You can get this from the crematory or from the LA Vital Records Office.
Departure from: Long Beach

Pricing includes:
✔ One hour burial at sea service
✔ Captain
✔ Rose petals
✔ Docking fee
✔ Fuel
Route of burial at sea Long Beach
During the burial at sea in Long Beach we will cruise at a relaxed speed and once we reached the designated spot to scatter the ashes the ceremony can take place. After the ceremony we will head back in again and drop off at the pick location.
$300 for 20 doves
Dove releases
A dove release symbolizes the start of the next journey of a love one en setting them free.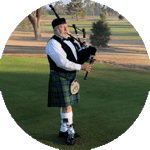 $350
Bagpipe player
Send your loved one off on their next journey with the sounds of a professional bagpipe player
Officially Licensed Captains
Local Los Angeles Business
Client reviews
We chartered a yacht to Catalina through Los Angeles Yacht Charter for a burial at sea for my mother.
Whether you are looking for a burial at sea or something more fun, I can't recommend this group highly enough.
Yesterday I had my father's memorial service on one of their yachts.
They made the whole process very easy and stress-free. The crew were nice and respectful to all of my guests. I would use them again.
Los Angeles Yacht Charter overall rating
Sleeping places:
Licensed Captain
Fuel:
Diesel
Capacity:
Max. 35 guests