From a ranching community to an urban waterfront playground. Long Beach's waterfront is an important commercial and leisure section of the city.  A part of the San Pedro bay that connects with the Los Angeles harbor Long Beach is an amazing place to have a private yacht charter. The southern part of the Long Beach shoreline contains 11 miles of sandy shoreline, with a majority protected by harbor breakwaters making it a smooth and enjoyable boating experience. Long Beach is the perfect place to experience highlights of the Los Angeles waterfront or play in the water at one of the swim spots.
See all Long Beach boat rentals
Book your Long Beach boat rental today!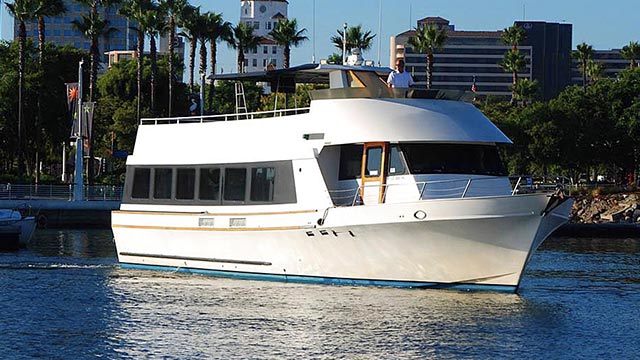 Long Beach
Max. 75 guests
Licensed Captain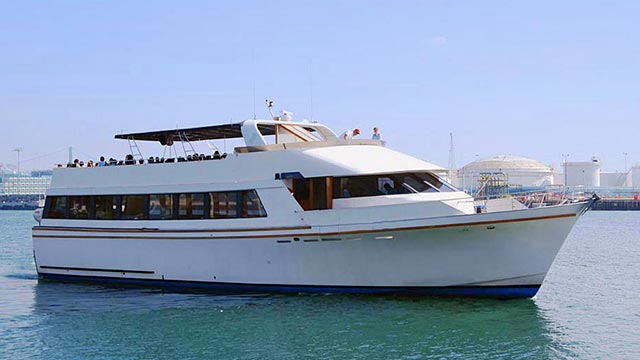 Long Beach
Max. 125 guests
Licensed Captain
Long Beach boat rentals highlights
The Queen Mary
The iconic ship has called Long Beach home since December 9, 1967. Famous for transporting around 2.2 million passengers in peacetime and 810,000 military personnel in the Second World War, the Queen Mary is a must see and picture moment on every charter.
Shoreline Village
A cape cod village that adorns the long beach rainbow harbor waterfront since its creation in 1982. Wave at the passersby enjoying the walkways or having a drink on one of the water facing terraces.
Alamitos Beach
Watch the bikers, roller bladers, sunbathers, volleyball tournaments, and umbrellas flood this popular beach front.
Junipero Beach
Located just below Bluff park, Junipero beach, also often referred to as Cherry Beach is the central beach location along the long beach waterfront. Watch the yoga classes that utilize the beautiful space.
Astronaut Island (Island Grissom & White)
See at least two of the four Astronaut islands on a private long beach charter. These man made isles were built in 1965 and measure 10 acres each. The islands were designed by Disneyland architect Joseph Linesch as part of a city beautification project to camouflage offshore oil derricks and muffle their sound. To disguise the industrial oil production, he added waterfalls, screens, and extensive landscaping along with the condo-style camouflage, and colorful lights at night. The islands are ringed by rocks from Catalina Island and filled with millions of cubic yards of material dredged from the bay. They are only decorated oil islands in the U.S.
Belmont Veterans Memorial Pier
Built by the determination of locals the pier was first erected in 1915. It has since undergone 2 renovations and continues to be beloved by the community. Extending 1,800 feet into the bay offering a great spot for watching sailboat regattas.
Things to do Around Long Beach
The Queen Mary
Changing the way people thought of travel in the 30's when she first disembarked from the UK, Queen Mary is a must see. Boasting five dining areas and lounges, two cocktail bars and swimming pools, a grand ballroom, a squash court and even a small hospital
Today the ship offers tours, restaurants, and a hotel. There are many ways to experience this ship that is not only an icon in the harbor, but in history.
Shoreline Village
Gracing the Long Beach coast line since 1982 the Shoreline Village is a cute Rainbow Harbor waterfront entertainment area that is fun for all ages. In a Cape Cod fishing style the village has shops, activities, an antique carousel and dining options for all budgets. It's a great place to walk around and enjoy the sunshine.
Aquarium of the Pacific
Founded in June 1998, the Aquarium of the Pacific is the fourth most-attended aquarium in the United states. Displaying more than 12,000 Pacific Ocean aquatic inhabitants, the Aquarium of the Pacific is a highlight of the southern california area.
Vintage Shopping on 4th street
Find one of kind items in this patch of locally owned shops. Also known as Retro Row, this eclectic collection of more than 40 independent stores offers amazing finds for clothing, furniture, collectables and more.
Long Beach eateries nearby charter pickups
QueensView Steakhouse
Splurge and spoil yourself with exquisite views at the Queens View Steakhouse. Located on the third floor of parkers lighthouse it's an intimate fine dining location that couldn't be closer to the pickup and drop off location.
Louisiana Charlie´s
For a more casual reception Louisiana Charlie offers a delicious selection of New Orleans delicacies. It's a taste of southern delights ranging from BBQ to Jumbo and don´t forget their famous bread pudding.
Tequila Jacks
Enjoy delicious margaritas and Mexican food while overlooking the rainbow harbor. Tequila Jacks off a wide variety of dishes to appeal to any Mexican desires. Their excellent service will have you coming back again and again.
Yard House
This popular american chain started in Long Beach in 1996. Today they can be found across the United States. The Yard House guarantees a huge menu offering and a wide variety of beers to accompany any of their classics.
L'Opera Ristorante
Satisfy your Italian cravings at the nearby L'Opera Ristorante. Just 5 minutes by car from the charter pick up and drop off location, this restaurant will whisk you to a small Italian village. Calling Long Beach home for 30 years this is a local favorite that's sure to impress.
Officially Licensed Captains
Local Los Angeles Business
Client reviews
We had a great experience on The Lady M. We most definitely booked again with Los Angeles Yacht.
We loved the boatride in the sun for my birthday, sipping on champagne and playing games.
Los Angeles Yacht Charter overall rating
Booking inquiry
You are almost there. Fill in the form below and submit. One of our representatives will then get in contact with you within 24 hours to confirm the booking or help you with your questions.