Los Angeles Fishing Charters
California has some of the best fishing in the world. With Southern California and the greater Los Angeles area getting a mix of local and in transit fish species. There is an abundance of selection with species variations depending on the time of year. With everything from lobster to sea bass, a private fishing charter is an amazing experience enjoyed on the day of and with a seafood feast after. 
Southern California Fishing Season Breakdown
Fishing is an art form. It's about being in the right place, at the right time, with the right bait, and a few tricks of the trade. Take a trip of a lifetime on a private Los Angeles Fishing trip. Every season brings new catches and potential.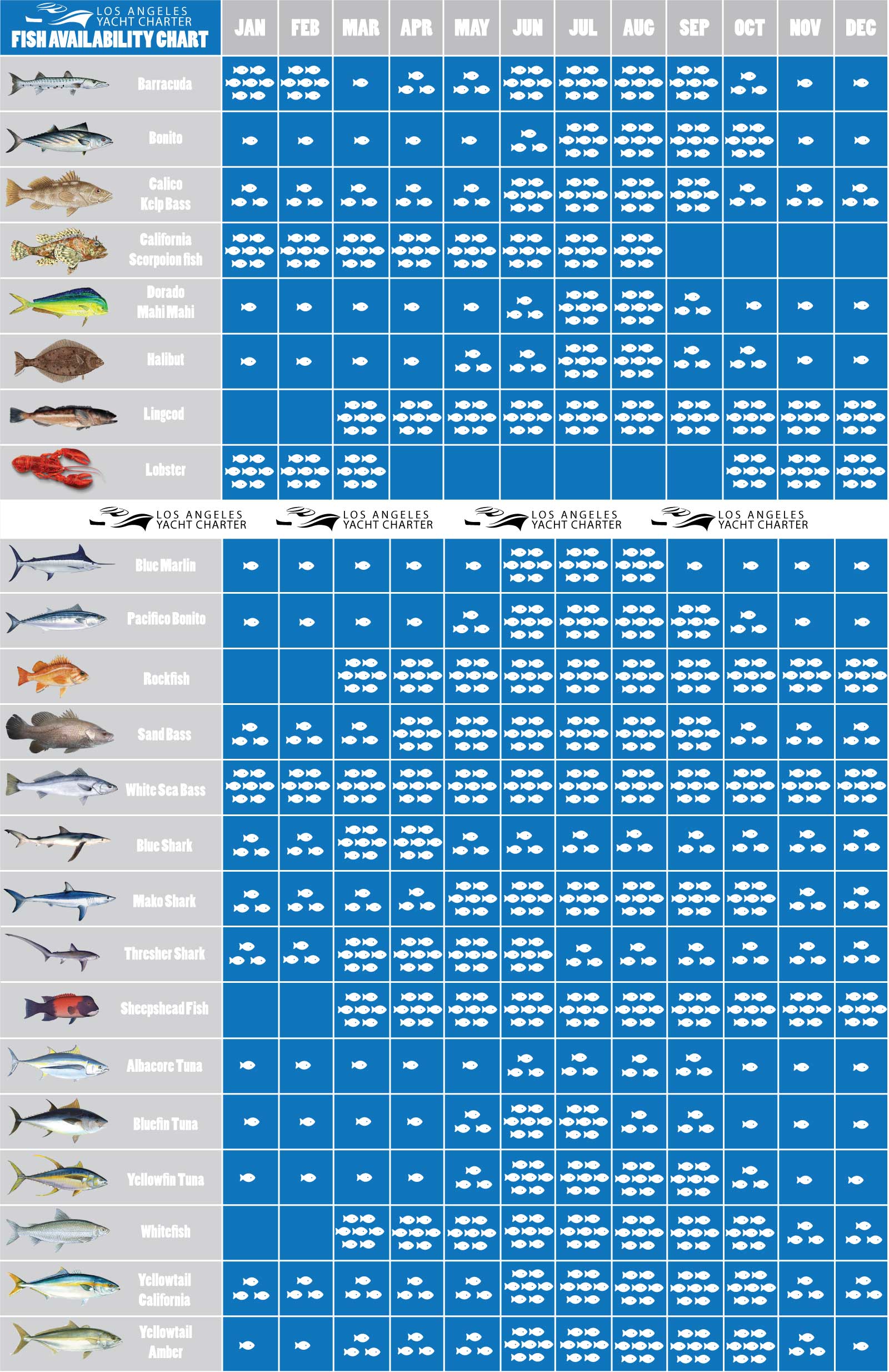 Fishing in Los Angeles
We offer a variety of private fishing charters departing from Marina del Rey and San Pedro. All of our private fishing charters come with a local captain who is experienced fishing the pacific waters in the Southern California area and has hidden spots and expertise on what is the best bait to catch your dream fish. Get ready to catch some of the amazing southern California fish.
Tuna fishing Los Angeles
From May until September Los Angeles has some excellent tuna fishing.
Tuna is a popular saltwater fish that has 15 different species. A powerful and nimble predator, the tuna has a sleek, streamlined body, and is among the fastest-swimming open ocean fish.  
Tuna´s can be recognized by their rounded bodies which narrow to a small tail base and a forked or crescent-shaped tail. They often shimmer as they come toward the surface of the water. With an almost ombre flesh their tops are dark and they fade into a silvery bottom.
This in demand fish can often be spotted chasing schools of smaller fish. On our private fishing charters in Los Angeles, we lure the tuna with live bait of sardines or mackerel, combined with other attractive tackle. If you think waiting  is the hard part, wait until they bite, that when the fun begins.
Yellowfin tuna
Commonly called ahi, from the Hawaiian name for the fish, Yellowfin tuna is a tuna species that is regularly seen on our private fishing charters off the coast of Los Angeles. The fish is very easy to identify because while on the hunt you will see their yellow dorsal fins as they jump above the water. Unlike some other types of tuna Yellowfin tend to stay in the top 100 m (330 ft) of the water.
Albacore tuna
Also known as the longfin tuna or white tuna in stores, Albacore is one of the smaller tuna species, reaching sizes between skipjack and yellowfin.  Albacore live in  schools based on their stage in the life cycle and can be found all over the world. They are identifiable by their extremely long pectoral fin.
Officially Licensed Captains
Coast Guard Certified Yachts
Local Los Angeles Business
What our customers say
Booked a private fishing charter for my dad's 50th. I don't think I have ever seen him as happy as that day. It was just wonderful.
Just had the time of my live. I booked the fishing boat for half a day with my colleagues who had done it before. The captain was very knowledgeable and helped us get some snappers.
Both brothers are friendly and true professionals. They tirelessly helped us catch fish and enjoy the day.
Their boat is well equipped and comfortable. I will be booking again with them very soon.